rp fineline 60W
Non-insulated, uniquely slim steel system for windows and partition walls. The face width of only 36 mm results in structures that provide maximum transparency. Ideal for the renovation of listed buildings. With its minimal face width, this profile system fades into the background of imposing architecture in an aesthetically attractive manner.
Drag to rotate 360°, zoom with the mouse wheel, right mouse button drag moves the view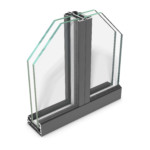 Planning advantages
Maximum transparency due to slim face widths from 36 mm (leaf-frame combination)
Delicate system made of steel for windows and partition walls
Ideal for renovating listed buildings or lofts
Can be used for turn or double casement windows and tiltable fanlights
Vast variety of fitting options – from nostalgic to modern
Performance characteristics
Resistance under wind load : ≤C3
Air permeability : ≤4
Watertightness : ≤7B
Insertable gaskets
Moulded parts in double casement variants
Three fitting variants: "nostalgic", "classic" and "standard"
Rebate screw-on barrel hinges of aluminium with excentric adjustment
Handles
Design is a question of attitude, of first impressions and long-term relationships. Following this idea, the design handle lines by RP Technik convince with a pure appearance and ergonomic handling. As an interface between windows and doors made of steel and the people who grasp them.
More >>